Adam Frank's ambitious attempt to braid together cosmic and human time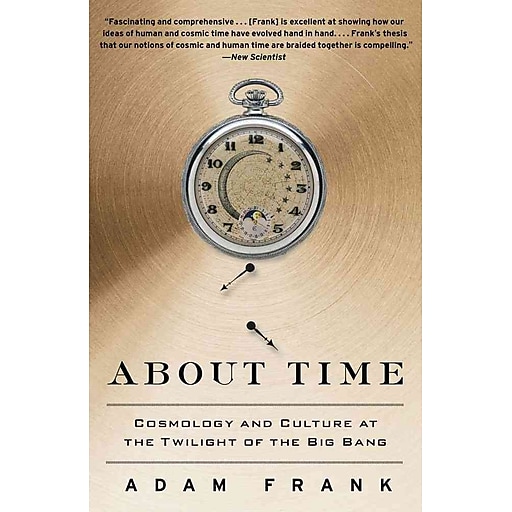 Time is one of those topics that always seems to stump me. Ever since Einstein hitched it to space to make spacetime, and cosmic physicists starting talking about things like 10-33 milliseconds after the Big Bang, I've sometimes asked myself questions like, what in the world does all that have to do with the fact that I burned the toast because I set the toaster timer at five minutes instead of four? Evidently I'm not alone in my bewilderment. Astrophysicist Adam Frank recently took the plunge into trying to make sense of all things temporal with his book About Time: Cosmology and Culture at the Twilight of the Big Bang (2011, Free Press).
Frank starts out with two basic points from the get-go: that human time and cosmic time are "braided" (he loves that word, by the way; he must have used it 14 times in his text, easy), and that the Big Bang is dead. From a point near the end of the book:
"…once we recognize the braiding of cosmic and human time, we may also recognize the turning point we have reached. In this way, we come to the end of our beginning as a species."
The problem I have with this proclamation is that I still don't get how the two times are braided. But he seems to imply that he doesn't really get it either, but boy, once we start getting it we will be ready to either evolve into a new species, or go extinct. Think of the astrofoetus in 2001: A Space Odyssey, floating up there and ready to transcend humanity. Heavy stuff!
This is typical of his writing, though: Momentous change is coming down on the human race, and…he's not sure what it is. It would be refreshing if he were up front about his ignorance, but at least he doesn't come on like He Who Knows All. This becomes apparent by the end of the book, when he tackles the Big Bang theory and what might replace it. Instead of giving a definitive idea about what might replace it, he covers a few renegade "rebel" scientists who have come up with some rather wacky alternatives. Julian Baker, for example, is convinced that there is no such thing as time, only a succession of Nows. Baker lost his job promoting that idea. Next, he writes about Andreas Albrecht, a self-described "quantum cosmologist," who coined the phrase "clock ambiguity" when he realized there could be no common ground between time on the quantum scale and time outside that scale. Finally, physicists Lee Smolin and Robert Unger decided that both String Theory and Multiverse Theory are essentially fictions, coming from a need by physicists (who are only human, after all) to establish timeless truths that exist outside of the world we experience.
He cheerfully admits that these rebels probably don't have the Big Bang Replacement, and such a replacement may be years in the offing—but isn't it great to see at least a few physicists stray from the party line?
Frankly, Frank doesn't really explain the physics part all that well, though I'm glad he didn't even try to explain String Theory, which to me sounds even more abstruse than the dense cogitations of a medieval philosopher like Duns Scotus. Frank does much better delving into the cultural development of human time, starting with Paleolithic shamans. Our concept of time has evolved as our tools evolved, from heavens-based observations to mechanical clocks to the tyranny of time efficiency developed in the Industrial Revolution to the globe-spanning instant connections of the Internet Age. This is all well thought out, but its connection to cosmic time he never succeeds in making. And he completely ignores another topic related to time as we humans experience it: subjective time. Why do some things seem to take longer than others? How do we judge time in the absence of clocks? How can time be deemed "precious?"
Just as there's a disconnect between the Quantum and the Cosmic, so is there a disconnect between the baffling paradigms constructed by the physics community, and the social paradigms Frank describes in his book. I give him props for trying to make the connection, though, and perhaps he will succeed in braiding them…in time.