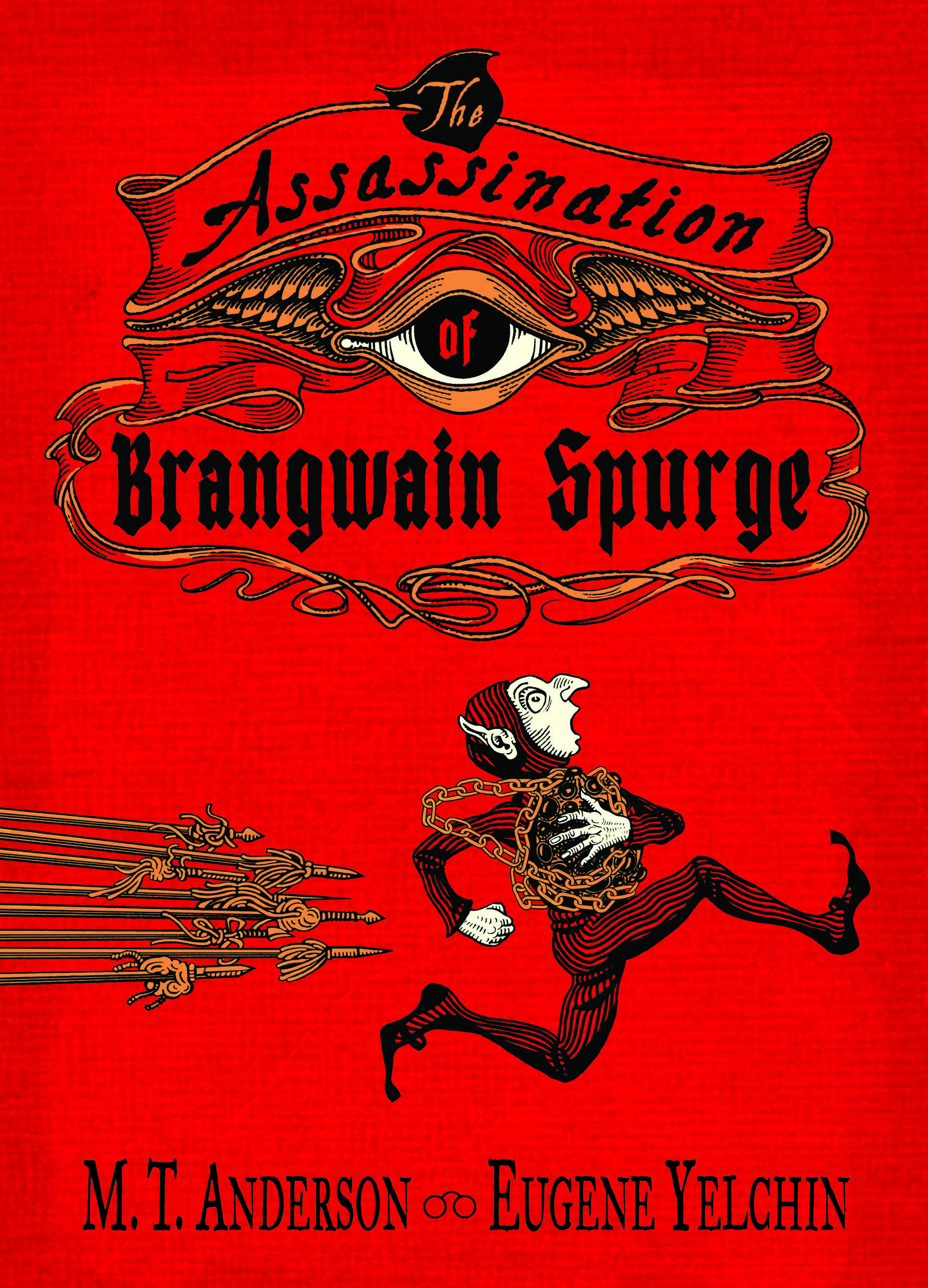 Humor writing is a difficult craft to master, almost as difficult as being off-the-cuff funny with friends and family in a manner that doesn't get you roundly criticized (I know, I've been there). Sometimes a writer publishes something that may have seemed funny at the time, but…you know. M.T. Anderson, best known for his bitingly satirical YA novel Feed, has been guilty of this at times. His sci-fi send-up Whales On Stilts, for example, can be summed up entirely by the title. Yup, whales on stilts, got it. Next…
Anderson does better when he sets his sights on recognizable social ills and puts somewhat clueless characters into untenable positions. Feed does this, as does his other well-known work, Octavian Nothing. His latest book, done in conjunction with charmingly weird illustrator Eugene Yelchin, manages to do this as well. The Assassination of Brangwain Spurge (now there's a name!) takes place in an imaginary world where the nation of Goblins and the nation of Elves are at constant odds, and on the brink of war. Spurge has been sent on an impossible mission. Launched by a giant crossbow into Goblin territory, ostensibly bearing a gift for the terrible yet mysterious Goblin king, he is actually a spy for the Elves. His host Werfel is a well-meaning Goblin, like Spurge an academically inclined fellow, who tries to impress Spurge with all manner of food that Spurge finds disgusting beyond belief. Funny? You bet. Think about that aunt you have to visit, who serves up things you'd never eat in a million years, like Haggis or pickled herring, yet because she's family you have to at least pretend to be eager to take a nibble and say it's good.
Spurge and Werfel are mirror-images of each other: each extols the wonders of their kingdom, and refers to the other kingdom as dastardly, evil, and foul. And yet they manage to hit it off rather well. Of course, things go awry, as things are wont to do when fantasy worlds are in conflict. No spoilers here, but suffice it to say that these two diplomats get their eyes opened by each other, and learn to transcend their differences. Which is something our own nation could learn to do, wouldn't you say?
This morality tale is a quick read, despite being over five hundred pages long, because a good percentage of those pages contain no text. Instead, on these pages Yelchin treats us to an illustrated view of the events that unfold, without words to explain them. The drawings are old-fashioned, full of cosmic suns and weird creatures, yet they also feature unusual angles to heighten the sense of drama they convey. Some of the images are absurd and some pretty funny, including some scenes when the intimidated Spurge breaks out of his shell and expresses his true elfishness. My only complaint about the drawings is that Yelchin fills the backgrounds in them with a murky gray light, in some cases ruining the proper contrast needed to fully appreciate—at least for a human like me—the drama they express. Perhaps this isn't a problem for Goblins and Elves, but unless I were to actually find myself in their kingdoms where I could inquire within, I'll guess it's a problem for them, too.
Murky pictures or not, this is a fun read for all ages, even if it is aimed squarely at the 10 to 14-year-old tweener market. It's a moral tale without being preachy, with relatable characters. One could do worse than to read it.