Gardner Dozois' The Book of Magic a fine Collection of Contemporary Fantasy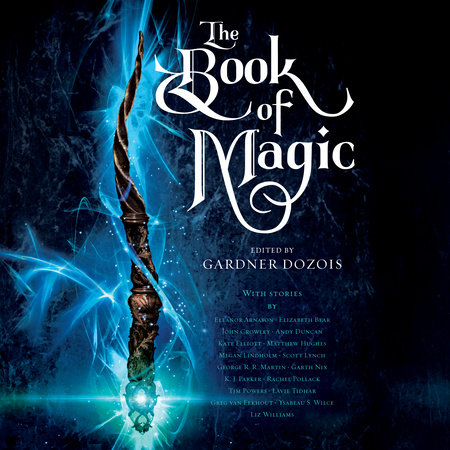 It seems to me that Fantasy and Science Fiction are locked in a symbiotic embrace. Fantasy without legitimate world building lacks cohesion; Sci-fi without fantasy's dream engines comes off as dry silliness. The seventeen stories in this collection, while definitely fantasy, also rely on remarkable world building to draw the reader into their shadowy depths.
Of course, as short fiction they don't have the luxury of creating Tolkienesque worlds, complete with back stories. The authors have to let a single brush stroke carry the entire background at times, often with a wink to a reader whom they assume has the knowledge of the genre, and an informed imagination to match, to fill in the blank spaces.
To do this, most depend on tropes, as well as previous works with similar storylines and magical entities. The most persistent trope is that sorcerers (magicians, shamans, etc.) who reach a certain level of mastery in their arts inevitably overreach themselves and are either forced to kill other magicians in magical duels, or cruelly choose to do same. All sorcerers have a grimoire, a book of ancient spells, the use of which almost always has dire consequences. To accomplish their ends, sorcerers evoke all manner of magical spirits and beasts: "Djinn, trolls, elves…egregores, deodands, grues, erbs, ghouls, scorpion-tailed manticores…" to quote the book's introduction. The more obscure ones mostly come from the gaming world—no surprise there, since the prevailing voice in most of these tales is an exceedingly clever Dungeon & Dragons master, with a taste for magical deaths executed in various bold and unexpected ways.
Perhaps the story that exemplifies the ethos the best is the only one not specifically written for this collection, George R. R. Martin's "A Night at the Tarn House." Here, every single character is encased in the unrelenting doom of a dying world, in which even magic itself is dying, yet still lures the unwary into chasing after its deceptive power. Every character seeks to kill every other character, and the only survivor is a fool with no magic at all. Given Martin's taste for blood, this is hardly surprising, and while not very edifying is at least entertaining.
That's not to say all the stories in this volume follow the well-tread magical path so fastidiously. For example, Scott Lynch's drolly fascinating tale, "The Fall and Rise of the House of the Wizard Malkuril," posits the sorcerer not as a sorcerer at all, but the extravagant house of a sorcerer, the brains of which house exploits the sorcerer's vast magical holdings after he dies by slipping and falling downstairs (D'oh!). The house overreaches its power (of course), but unlike many other tales, reaches a measure of redemption in a cleverly composed ending.
A few other stories stray way beyond the tropes. Andy Duncan's "The Devil's Whatever" is set not in some sorcery-drenched gothic world on another planet, but in the American South, with homespun characters who just happen to have magical powers. But the greatest outlier has to be Ysabeau Wilce's "Biography of a Bouncing Boy Terror, Chapter II: Jumping Jack in Love." This is a totally over-the-top explosion of ludicrous language, hilariously slapped together, to narrate the exploits of a kleptomaniac kid who goes to absurd lengths to win the girl of his dreams. Characters killed: 0. Laughs: too many to count.
All in all, this is a fine read, with stories artfully crafted for one's magical pleasure. They all give enough tantalizing glimpses into their worlds without weighing the reader down with detail. Most feature some kind of twist at the end. Only one of them (Lavie Tidhar's "Widow Maker") left me bored and scratching my head. Even if you don't have a grimoire, it's good for a few spells.